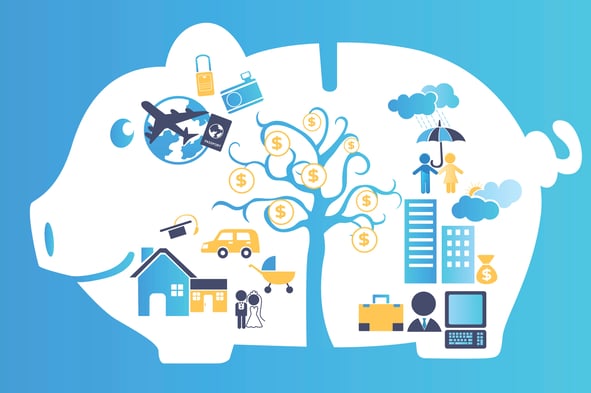 Whether it's building an emergency fund, paying off a mortgage or saving for retirement, every American faces financial issues at some point in their lives. These issues, however, can be surmounted with smart strategies for saving, spending and investing.
Financial Issues Change with Age
As you progress from your first job to your last, the financial issues you encounter constantly evolve. During this natural progression, financial obligations change and often become more complex.
Post-College
After college, you will begin to experience real world money pressures, such as credit card and student loan debt. When you enter the work force, you must learn how to balance a budget that covers expenses and pays for extracurricular activities. Establishing a pattern of sound financial behavior at an early age sets a positive precedent for the rest of your life.
Pay Monthly Bills
Become Financially Independent
Start Saving Money
Thirtysomething
When you reach your 30s, your life situation often changes. In your 30s, many Americans take on new obligations like paying for a wedding, buying a house or raising children. At this stage, it's necessary to plan for all possible scenarios, including health problems, which could require a long, costly hospital stay.
Put Away Money Each Month
Build an Emergency Fund
Pay off Mortgage, Credit Card and Student Loan Debt
Begin Contributing to a 401(k)

Fortysomething
As both you and your children grow older, financial priorities shift again. At this life stage, there is a greater possibility for unexpected life events, such as a divorce or illness, which can cause significant financial strain. If you have previously built a financial cushion, it will be easier to weather problems like these.
With retirement approaching, your financial planning should also include beginning to set aside enough money to comfortably enjoy your golden years.
Save Money for Retirement
Pay for your Children's Education
Invest your Savings
Become Debt-Free
Middle Age
When you reach your 50s, it's important to get serious about saving, investing and becoming truly debt free. If you would like to retire, now is the time to strongly consider family and personal financial planning to protect your investments. It's smart to set savings goals early in middle age and work at meeting them.
Max Out Retirement Contributions to a 401(k) or a Roth IRA
Pay Off your Mortgage
Manage your Investments
Retirement and Beyond
Before officially retiring, make sure you have enough savings and supplemental income, such as Social Security, to support your lifestyle. Proper planning will enable you to enjoy a worry-free retirement.
Reach Retirement Savings Goals
Regardless of your age, the financial issues you may encounter are manageable as long as you act responsibly and plan well in advance.