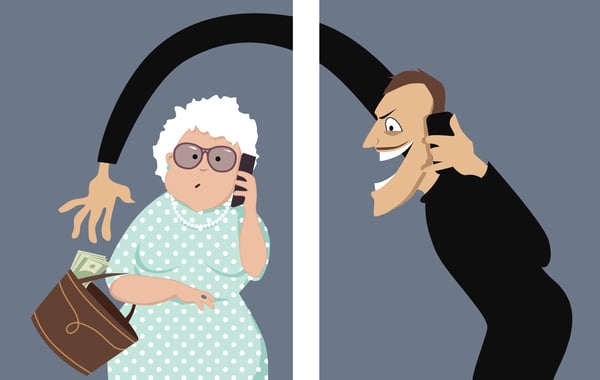 As tax refund checks are beginning to be issued nationwide, the IRS recently warned everyone to be on high alert to avoid becoming the victim of an IRS phone scam. The warning was issued after a government agency recorded more than 5,000 victims of tax scams since October 2013.
"Taxpayers across the nation face a deluge of these aggressive phone scams. Don't be fooled by callers pretending to be from the IRS in an attempt to steal your money," said IRS Commissioner John Koskinen recently. "We continue to say if you are surprised to be hearing from us, then you're not hearing from us."
The IRS Phone Scam: 4 Types of Schemes
Consumers should remain on the lookout during tax season for calls from con artists impersonating the IRS. These scammers target unsuspecting Americans in an effort to gain their personal information. They may use tricks like threatening arrest, deportation, license revocation or even claim you are entitled to a large refund.
Today's con artists have the ability to alter caller ID numbers and create fake IRS titles and badge numbers. And, don't be surprised if they say your name, address and other personal information to appear more official.
What to watch out for:
Unsolicited calls
Phone threats
Caller ID spoofing
The IRS recommends remain skeptical of unsolicited calls, because con artists continue to develop new schemes every year.
What the IRS Won't Do:
Taxpayers should notice an IRS phone scam right away, because the actions of con artists are completely contrary to the way the IRS conducts business.
The IRS will not:
Call about taxes without first mailing a bill.
Demand immediate payment from taxpayers.
Demand payment with the opportunity to question or appeal the amount owed.
Require a specific method of payment, such as a prepaid debit card
Ask for credit or debit card numbers over the phone.
Threaten to alert the local police to have you arrested for failure to pay.
What You Should Do
In order to safeguard your personal information, it pays to be vigilant. And not just around tax season, an IRS phone scam can happen any time of the year.
If you don't owe taxes, don't give out any information, just hang up. If you are performing your personal financial planning and you think you owe or might owe taxes, you can call the IRS at 1-800-829-1040. One of their representatives will speak with you. If you have reason to believe you've been contacted by a con artist, you can report the incident to the Treasury Inspector General for Tax Administration (TIGTA) at 1-800-366-4484 or www.tigta.gov.