A business' taxable income is the portion of its profits that are subject to Federal and State income tax. This can be calculated by subtracting permissible tax deductions from gross sales. It's an important figure to know, because it helps you determine how much of your business' profits you will ultimately be able to keep.
This basic calculation is easy to perform if you follow these five simple steps.
5 Steps to Assessing your Taxable Income
Although there are many reasons your business might need an accountant, taxable income is a calculation you can probably do on your own.
What you need
Financial statements
Government tax tables
Computer spreadsheet program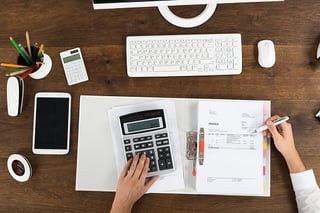 1) Determine Gross Sales
Your business' financial statements will help you determine important facts and figures, such as gross sales. Gross sales is simply determined by the sum of revenue from all sources during the year minus the sum of all expenses. This figure is calculated in the same way regardless of your type of business or revenue stream.
2) Calculate Cost of Goods Sold
Depending what you do, you may or may not need to calculate the cost of goods sold. If you are in retail, you probably bought inventory from a wholesaler. You would then subtract this amount from your overall revenue to determine gross profit for tax purposes. If you do not sell goods, you can ignore this step.
3) Itemize Business Expenses
In order to figure out how much of your income is taxable, you will also want to tally and categorize your business expenses, which will include items, such as:
Salaries and wages
Rent
Repairs and maintenance
Subtract your business expenses from your gross profit to determine your gross income.
4) Subtract Deductions
Now that you have a good idea of your business' yearly income, take that number and subtract all the deductions and credits your company is eligible for, including:
Business interest
Retirement plans
Business use of a car
5) Determine Taxable Income
You company's taxable income is not the same as its net income. The portion of your income that is taxable is your gross income minus any allowable tax deductions or credits. The final number could be negative if your company has shown an overall loss in the profit column.
Learning how much of your income is taxable is a good first step toward preparing your business' tax return. If you have any questions or need additional assistance before the April 17 deadline, consult a local tax professional.